Will I be compensated for jury duty?
You will be paid $15.00 for reporting for jury duty and $40.00 per day if you are a sworn member of the jury.
In addition, you will be paid mileage for travel expenses.
If requested, you will be provided proof of attendance.
What should I wear to jury service?
Business casual. Due to environmental changes you may wish to bring a sweater or jacket.
Can I bring children with me to the courthouse?
DO NOT BRING CHILDREN. Children are not permitted in the courtroom. Licensed child care providers may be obtained from Child Protective Services - 317-773-2183.
What parking is available at the Courthouse?
Each juror's notification letter may give juror further parking instructions. Please see CityOfNoblesville.org and click on Parking for a map of public parking options. You may wish to have coins or change for parking meters. On-street parking within two blocks of the Government and Judicial Center is limited to two hours and is clearly marked.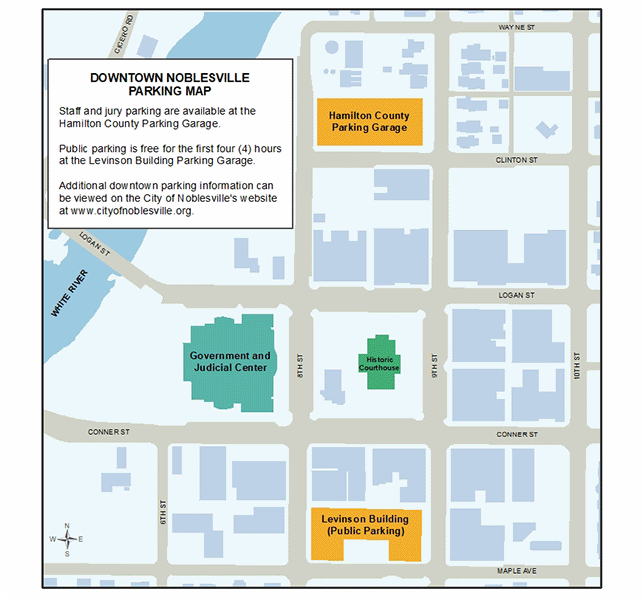 How long does jury service last?
Your time of service will be one day or the duration of one trial.

Meals
Courts' policies vary.
You should be prepared to provide your own meals. If you are selected as a juror, meals and refreshments will be provided.

Security
You will be required to go through a metal detector upon entering the courthouse.

Juror Automated Line - (317-776-8282)
The information line provides general information for prospective jurors. It is available 24 hrs.
Americans With Disabilities Act
Auxiliary aids and services may be available pursuant to ADA. Jurors should discuss reasonable accommodations with the court bailiff.